Apps that Work to Enhance Your Business. Businesses have to change with the times. Running a business used to be a matter of having the right physical locations and keeping records in hard copy through the use of rooms full of filing cabinets and a system of how they were to be organized. Much of the business was ran by many different people doing many different jobs and everything had to be maintained within the building itself.
Must Have Business Apps for Mobile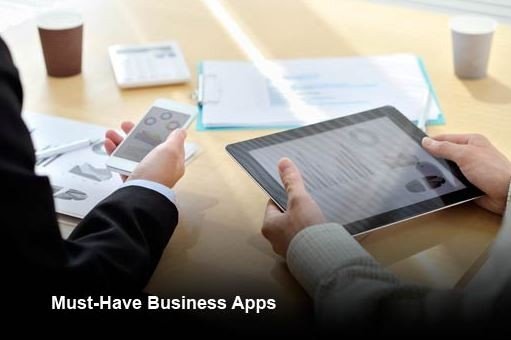 These days' entire companies can be running from any number of locations with each entity linked through the internet. Much of the record keeping is accomplished online and the use of the outdated filing systems of years gone by are no longer thought of. The business world today has a great asset within thee apps they use. Here are some of the apps that will enhance your business and bring it up to date with the technologies that make life easier.
MetroFax
Businesses have to have a way to receive messages from clients. Many of the businesses today rely strictly on email for messages to be sent and received from clients. Where email is a good thing, it is not always as beneficial as the standard fax system.
Faxes are still used by many companies because they can be sent on a secure line and are less likely to be targeted by those who may seek to hack an email system. The use of a fax machine however can be very impractical if you are on the go for business. It is not always easy to get back to the office to receive a fax from a customer or client.
The traditional fax machines are very large and bulky. Therefore, they are not able to be taken with the user. They also require a phone line which is certainly not convenient, but MetroFax offers the solution with an app that allows the user to view the faxes that are sent so that they are able to remain on the go without having to head back to the office in order to receive a fax.
MetroFax is iPhone compatible and makes a great addition to any business that relies on faxes to receive and send messages.
Freshbooks
If you have been in business for more than five minutes you have likely had to send an invoice to a client. Like with the faxes, they often have to be sent from the physical location of the business simply because it is easier to do so through a standard email system with the use of an invoice template.
The managing of these invoices can however become difficult when there are many of them and that is why the Freshbooks app may be the answer to your invoice woes.
Freshbooks allows users to access and manage invoices right from their smartphones. There is no need to go back to the office in order to maintain these invoices making your mobile device act just like the computer that you would normally use inside the office.
Any app that allows you to continue to run your business in a mobile aspect will be beneficial to the growth of your business.
Evernote
For years Evernote has been a very widely used program that allows businesses to organize the information that they use to run the business. The standard system is used from a computer in your physical office, but now they offer Evernote conveniently packaged into an app.
The Evernote app gives you the ability to access all of your files, emails, and notes from your smartphone making your mobile office you only office. This convenient app will be one of your most vital tools no matter what type of business you have.
Dimwise
The finances of your business is one thing that certainly needs to be tracked. Many businesses have fallen simply because they did not keep track of their finances coming in and going out of the business itself.
If you have a very small company it may be possible to simply keep track of these things through the online business transactions page of your bank, but if you really want to see your business grow, you need to have the tools in place to make it happen.
Dimwise is an app that allows you to have complete control of your finances at all times. You are able to keep track of all business transactions without having to log onto your banking website making your business run smoother than ever before and allowing you to keep all accounts in check at all times.
The world of business may have changed over the years with the advancement of technology, but it is vital to embrace the technology that comes available that can grow our business.
More and more apps are being made available each and every day and finding the ones that will enhance your business is the way you will get ahead of the competition. 🙂